Boasting the only USDA-certified, plant-based SYNthetic turf products in the industry, SYNLawn has created recyclable, lush, sustainable products - more durable than petroleum-based products. SYNLawn Columbus has been providing solutions for over 14 years for lawns, landscapes, pet areas, rooftops, patios, pool surrounds, custom putting greens, backyard basketball courts and more.
We believe that the highest quality products require the same caliber of customer service and genuine care for the community in which it serves. Our low-maintenance solutions will help you save money on maintenance costs while having an awe-inspiring landscape all year long. With over 50 years of research and development endowed in our products, we are confident and proud of the advanced turf technologies developed by SYNLawn® and we know you will too.
It is an honor to represent the SYNLawn brand in the Ohio market, and to serve the homeowners, businesses, contractors, and architects who are looking for the best artificial turf solution for their projects.
On behalf of our entire team, thank you for choosing SYNLawn Columbus.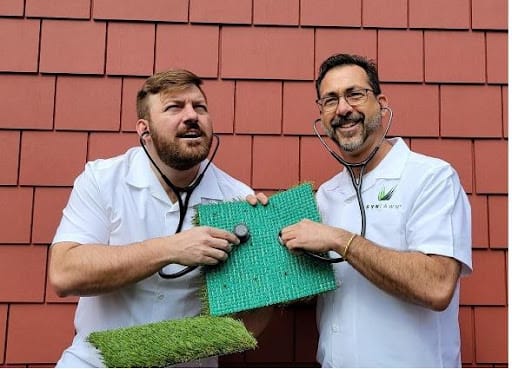 SYNLawn Columbus, Founder & Owner, Jeff Hollenbach (right) and Sales Manager, Nic Radel (left) are always ready to help to find the best solutions for their clients.